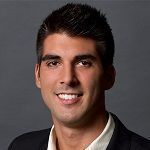 About Anthony Vlahovic
Anthony Vlahovic was raised in a real estate family and has had a passion for the industry since childhood. Along with passion, he has a strong business education to translate the different concepts that create and sustain success within the real estate business. He works diligently with clients to make sure they are prepared for every step of the process that comes along with buying, selling and renting properties.
Anthony attended the University of Central Florida, where he graduated with a Bachelor Degree in Marketing. He is very proud to be a part of the team at Turnberry International Realty, providing exceptional service and professionalism to every client.