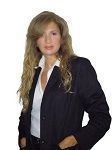 About Elissa Cortesano
As an Accredited Buyer Representative (ABR®), I have met the educational and practical experience criteria required to be awarded this coveted designation. The ABR® designation stands for the benchmark of excellence in buyer representation and the only buyer-representative designation recognized by the National Association of Realtors.
In addition to having an advanced degree (MA) in International Affairs, my travels and living abroad have
afforded me rich experiences in a variety of cultures and mastery of several languages. All of which contribute to my ability to negotiate with cultural sensitivity and provide my clients superior representation.
The best testimony of my character is best exemplified by the experience of my clients.
"In my professional experience, I have quite literally worked with or managed hundreds
of people at a given time. I can honestly say that Elissa Cortesano was one of, if not the most, professional individuals that I have ever had the opportunity to work with. Her absolute dedication and caring for the client, her commitment to the market and her professionalism are unparalleled and should be the foundation for which all professionals strive."
I look forward to hearing from you and assisting you in Finding Your Place in the Sun.