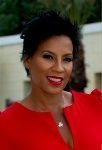 About Mekevia Hawkins
Mekevia Hawkins has been working as a Licensed Real Estate Agent for over 10 years. She is a member of Miami Association of Realtors as well as National Association of Realtors. Mekevia has superb business sense and an ability to connect with the people around her. Through her honest-straightforward business personality she has gained the trust and confidence of her clients throughout the years. Her clientele range from high profile to those wanting to achieve first-time home-ownership. She relies on her commitment, knowledge, and expertise of Real Estate to go above and beyond the expectations of all her clients.
Mekevia, being fully aware of the constant changes in Real Estate, offer full-service Real Estate needs: Pre-Construction, Purchasing, Selling, Short Sale, and building lucrative Real Estate Portfolio. With her dedication to make dreams come true and her devotedness to any challenge she has become the Realtor that will deliver.