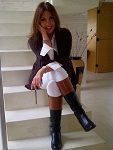 About Paula Dabul
Born and raised in Buenos Aires, Argentina, Paula relocated to South Florida in 1991. She initiated her career in Retail as a sales associate and was given a promotion shortly after to Store Manager . After 5 years she acquired the knowledge and decided to start her own Import-Export business Paula had her company for 15 years after which her priority was to become a full time Mother.
Paula first experienced the real estate market by buying and selling her own homes, from Sunny Isles to the Brickell area. She then discovered the town of Aventura and fell in love with the area, which she now calls home.
Paula has worked diligently in Miami, helping buyers and investors find the right property during challenging market conditions. Through great emphasis on education and networking, combined with previous sales experience and success as an entrepreneur, Paula is able to navigate the, sometimes, rocky waters of real estate transactions with ease, making her clients feel comfortable every step of the way, while simultaneously creating lifelong relationships. She leads by example and provides coaching opportunities to those in need.
Paula has traveled extensively to many countries and speaks fluent English and Spanish. Her client base extends well outside of the United States. Paula is confident and capable of conducting business with foreign investors in a professional manner that provides a level of comfort for the client that translates into trust. She goes the distance to provide the service that clients expect and deserve.
Paula's area of expertise is investment residential and the multifamily luxury market. She also excels in Commercial. She is motivated by results, sets her goals high and is driven to be Number One.
Paula is proud to be a member of the Turnberry International Realty family. She is included in Turnberry Realty's prestigious Gold Club for Top Producers.